Creative Ways to Use Storefront Window Decals
Window decals are so much more than a company name on a pane of glass. Your windows are prime advertising space. Printed advertising works. What better place to express your brand's value proposition than right outside your business?
Window decals are the simplest form of advertising. If you own (or rent) a brick-and-mortar location with public-facing glass, you have an effective platform for connecting with the general public.
Don't let your storefront become the background of a busy street. Make the most of your resources and get that traffic moving in the right direction… towards your front door!
Vinyl Labs in Langley will create and install custom window decals that elevate the appearance of your space. Every square inch of your commercial property should make an impression. Stickers on your storefront windows make your brand more visible and help promote what you do.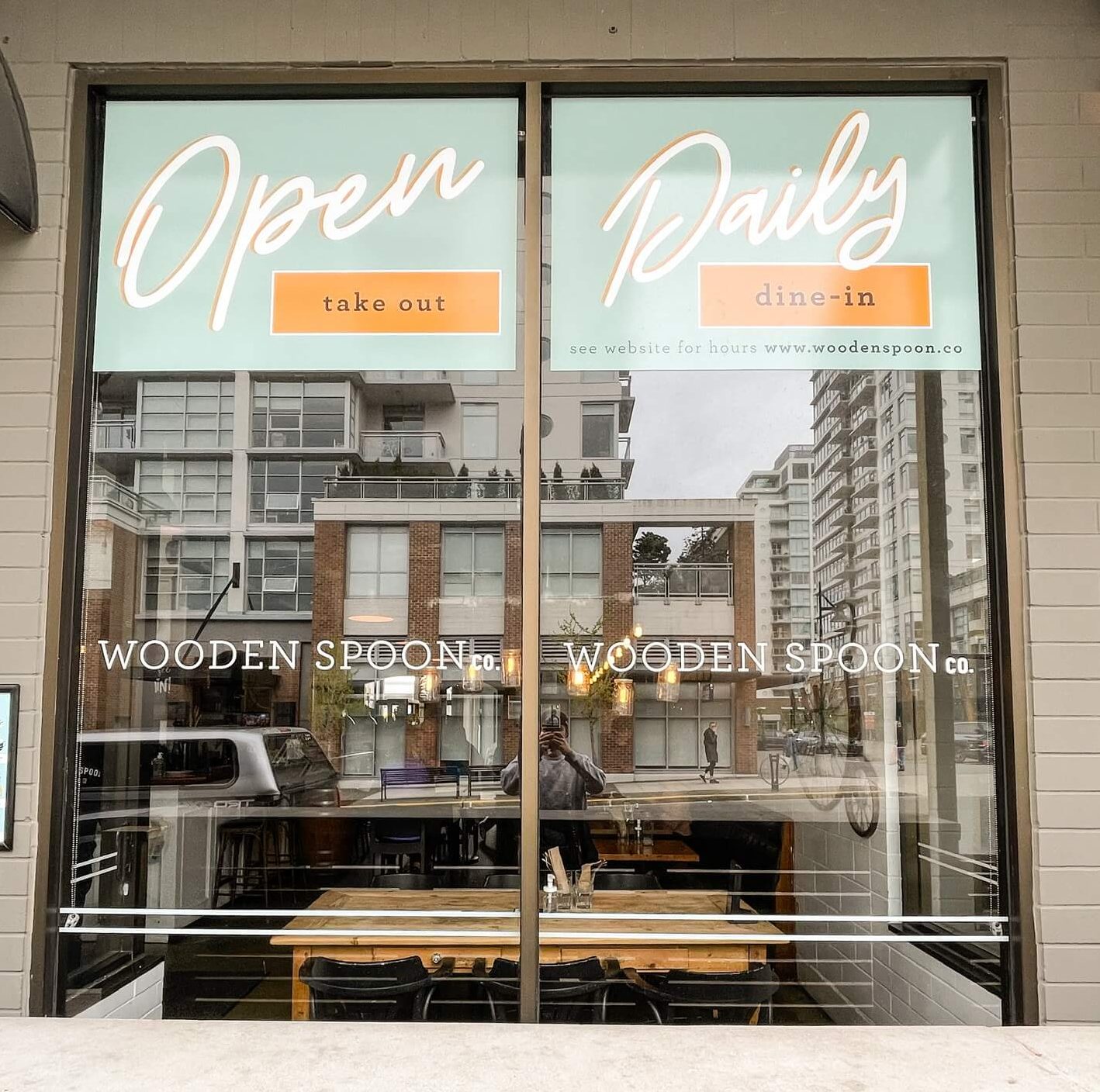 Are Fancy Window Decals Necessary?
In the same way your business needs a logo or a website, window decals establish your credibility.
Window graphics offer a fantastic, cost-effective marketing opportunity. Vinyl on glass makes a stronger impression than banners or posters. Having your own window decals with custom designs builds trust.
Although there are various types of decals you can use for the front of your shop (non-adhesive static clings, clear window decals, opaque, etc.),you have to pay attention to the execution and strategy involved.
Here are a few tips from the pros at Vinyl Labs.
Go Large on Your Window Clings and Vinyl Window Decals
Big and bright makes a visual statement. Make your messaging easy to read. 
Don't worry; clear vinyl on glass surfaces lets in plenty of natural light. We also offer perforated window decals that allow you to see through the graphic.
With top-notch printing, you won't have to worry about air bubbles or the adhesive backing leaving a big sticky mess. 
Don't put anything on your window that you're not proud of; Vinyl Labs will always uphold your high standards.
Create a Focal Point on Your Window
Ideally, you want to generate  interest in your business. Stating what you do up front is good, but many customers will want to peek in before they walk through the door.
An opaque window decal with a clear area for window shoppers to see through can be an enticing strategy. Direct people where you want them to look. 
Arouse Curiosity
Window signs that create a bit of mystery are a powerful lure (as long as people know what it is you're selling). If your windows are normally open for people to look through, the simple act of covering them up will also draw attention.
Keep It Simple
The idea of any business window decal is to generate attention, but that doesn't mean that you need custom stickers crammed full of text to draw people into your store.
"Sale" is a single word that never fails to pique interest.
Think of Storefront Windows as Your Latest Ad
Is your business running any special promotions? Do you have any seasonal offerings?
Billboards, radio spots, newspaper ads, and local TV commercials are all effective forms of advertising, and so too are your storefront windows. Window stickers allow you to be bold with your messaging about upcoming events. Choose vibrant colours that catch the eye.
Don't worry; vinyl easily peels off when it's time to switch things up again. Professionally done vinyl window decals will not adversely affect the glass in any way.
Don't worry about extreme cold or extreme heat. Professionally created decals are durable for years of use.
Final Thoughts
A nice custom window decal can say a lot about your business. Professionally printed vinyl decals speak loudly. It's time to think of outdoor advertising in a new way. A custom window sticker can express whatever you need.
At Vinyl Labs, glass decals are never simply a piece of material or something to fill the space beneath your store sign. Storefront decals offer an opportunity to inspire your customers to action.
Learn more about all the products Vinyl Labs can produce. Vinyl Labs ensures you always get excellent results from car windows to banners and everything in between.